Port Douglas
Wildlife Tours

& Presentations
Your standard admission pass is valid for five consecutive days, and includes all of our Port Douglas wildlife talks and wildlife presentations. Feeding talks with our Wildlife Keepers offer opportunities to feed an amazing array of wildlife. Get close up to a Cassowary on our Rainforest & Cassowary Feeding Tour or be blown away by the power of the Estuarine Crocodile with our Crocodile Feeding presentation.  Daily animal presentations allow guests to see and touch animals up close. These presentations provide a learning experience about pythons, koalas and crocodiles. For a close encounter, you have the opportunity to purchase a souvenir photo holding these captivating creatures.
Morning Schedule:

9.00am – Stork Keeper Talk | Wetlands
9.15am –  Feature Creature wildlife photos | Wetlands
10.00am – Cassowary Feeding Presentation | Rainforest
10.45am – Koala Keeper Talk | Wetlands
11.00am – Feature Creature wildlife photos | Wetlands
11:30 am – Reptile Keeper Talk | CrocArena
11.45am –  Saltwater Crocodile Feed presentation | CrocArena
Afternoon Schedule:

12.30pm – Interactive Tropical Bird Experience | Wetlands Cafe
1.00pm – Feature Creature wildlife photos | Wetlands
2.00pm – Birds Feeding Talk | Rainforest
3.00pm – Kangaroo & Pelican Keeper Talk | Savannah
4.00pm – Park Closure
Have you ever wanted to have a photo with a blue-tongue, a stick insect, cockatoo or maybe a frogmouth? Be the star in our Feature Creature photos with you and our photogenic:
Snakes
Crocodiles
Koalas
Other members of our wildlife family
The cost of the photo includes a 6×8 print and the ability to email a digital copy to yourself to share with your friends and family on social media. Each day we will have a different Feature Creature for you to meet and hold!
Join our wildlife keepers in the Curlew Café and Bar for your opportunity to learn more about our resident Australian parrots and to have a photo taken with them at 12.30pm.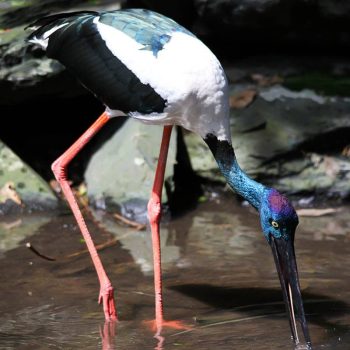 Join our wildlife keepers on our feeding tour to observe the vast array of Wet Tropics wading birds that call the Wetlands home. Learn about the different foraging techniques and physical attributes specific to the different species of native water birds.
Experience the might of these ancient species. Our wildlife keepers will demonstrate the sheer power of the Estuarine and Freshwater Crocodile during an informative feeding presentation in the Savannah.
Join a wildlife keeper to explore the Savannah Habitat, where you can interact with and hand-feed kangaroos and wallabies. A host of wild native birdlife use the lake as a sanctuary. View lagoons where both the estuarine and freshwater crocodiles lurk beneath the water or bask on the sunlit banks and even take a walk over our all new Predator Plank.
Enjoy an entertaining and educational talk about the pelicans while encouraging their involvement with treats. ring your camera especially if you are a keen photographer of wildlife, and don't forget your Roo Food from Reception.
During this tour you'll also learn about the Lumholtz's tree kangaroos successful breeding program which is uncovering the secrets of tree kangaroo behaviour and reproduction.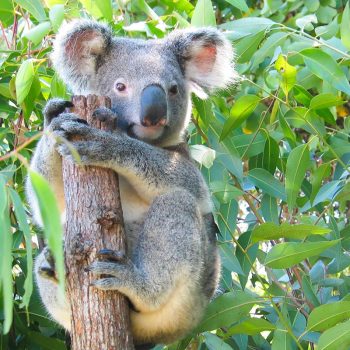 Discover why a Koala is called a marsupial and what makes them so special. Find out why they sleep all day, how they raise their young and the gum leaf menu they enjoy. Port Douglas wildlife tours don't get more iconic than this!
You can personally cuddle a koala and have your photo taken as a souvenir check out the photo times here.
Visitors will experience the different levels of this habitat from the forest floor to the canopy by following along our walkway which makes its way through the Rainforest Habitat. You have the opportunity to feed rainforest birds and learn about the characteristics of the local species.
If you're interested in reptiles that live in this part of the world then this is the tour for you! You'll have the opportunity to touch a python and a crocodile – and have photos taken during our Feature Creature photo sessions to prove to all your family and friends back home that you did it!
This is truly a once in a lifetime experience with one of our wildlife keepers who will answer any questions and teach you the amazing facts about North Queensland reptiles.
During this tour a meandering walkway allows visitors to experience different levels of the rainforest from the forest floor to the canopy. You follow the Cassowary Walk to learn about the pivotal role the world's third largest bird and local endangered species plays in the preservation of the Daintree Rainforest. You will meet Cass and Airlie our resident cassowaries and you can't help to admire these magnificent birds. You may also be lucky enough to feed Cassie our resident female cassowary. It's one of the Port Douglas wildlife tours you don't want to miss!


PLEASE NOTE: Wildlife Habitat does not condone or advise you to feed cassowaries in the wild.