This week we celebrate Tree Kangaroo Awareness Week. An opportunity to raise awareness of one of Australia's most elusive and unique marsupials.
There are collectively fourteen species of tree-kangaroo throughout Papua New Guinea, Indonesia and Australia. Two species are unique to Australia, found only in North Queensland. They are the Lumholtz's tree-kangaroo (LTK) and the Bennett's tree-kangaroo. Australia's tree-kangaroos are found primarily in areas of rainforest, from upland cloud forests to lowland monsoon forest.
The Bennett's tree-kangaroo inhabits the region between Daintree and Cooktown, and the Lumholtz's tree-kangaroo are found from the Carbine tableland to the Cardwell range but are most commonly observed on the Atherton Tablelands
Tree-kangaroos are solitary animals but as their young stay with their mothers for almost 3 years, females are commonly seen with offspring. Tree-kangaroos are not strictly nocturnal; they are mostly CATHEMERAL – active for short periods throughout the day and night. After significant activity they will have a nap.
Wildlife Habitat were the first commercial wildlife park to display the Lumholtz's tree-kangaroo. The Wildlife Habitat first opened its Lumholtz's tree-kangaroo exhibit on January 24th in 2002, under the direction of then Park Curator Terry Carmichael. Then known as Rainforest Habitat, the park had actively sought to acquire Lumholtz's tree-kangaroos for exhibit for over eleven years.
For many years the world's only captive breeding colony of Lumholtz's tree-kangaroo was at Queensland Parks and Wildlife Service's, Wildlife Management research facility at Pallarenda, Townsville.
The Habitat's persistence and ongoing support of the Lumholtz's tree-kangaroo came to fruition, when we were granted the privilege of housing the world's second breeding group. In November 2006 we welcomed the first born Lumholtz's tree-kangaroo into our collection.
In more recent times, Wildlife Habitat has been working with Dr Karen Coombes and Tree Roo Rescue and Conservation Centre (TRRACC) taking in individuals that could not be released as part of this breeding program.
To date (May 2016) Wildlife Habitat has bred four Lumholtz's tree-kangaroo. Two girls and two boys – Demi, Burnu, Quinton and Mabi.
Our most recent, a female named Mabi, was born in September 2015.
In May 2013 the Zoo Aquarium Association instigated a captive breeding program for the Lumholtz's tree-kangaroo, which is managed under the Australian Species Management Plan guidelines.
This enables other facilities within Queensland to be able to acquire the Lumholtz's tree-kangaroo and to contribute to educating the public on the conservation of the species. Any zoos wishing to participate in this program must agree to a memorandum of understanding before being granted opportunity to receive this species.
Clare Anderson, General Manager of Wildlife Habitat, is the species coordinator for the population management program for the Lumholtz's tree-kangaroo and works closely with TRRACC to support this valuable program.
Wildlife Habitat is currently home to four Lumholtz's tree-kangaroo. Ruby and Colin both wild born rescued animals from TRRACC, who due to the seriousness of their injuries cannot be released back into the wild. Also, Quinton born in the park in September 2011 and Mabi, who is the offspring of Ruby and Quinton.
Tree Roo Rescue and Conservation Centre (TRRACC)
Prior to moving to Far North Queensland, Karen Coombes & Neil McLaughlan were Wildlife Carers for 10 years in Darwin.
In 1998 they moved to Atherton Tablelands and meet Margit Cianelli, who was looking after orphaned Lumholtz's tree-kangaroo joeys for many years. This was to be their introduction into their love affair with the Lumholtz's tree-kangaroo and their desire to raise awareness for this gorgeous mysterious creature.
From 2000-2005 Karen undertook her PhD, on 'The ecology and utilisation of Lumholtz's tree-kangaroo Dendrolagus lumholtzi (Marsupialia: Macropodidae) on the Atherton Tablelands, Far North Queensland'.
That is when the rescue phone calls started coming in. Tree-kangaroos needed carers and whilst Margit was happy to take joeys no one was willing to take on the responsibility of caring for adults, then Karen and Neil raised their hands for the job. But they don't just rescue adults, they rescue joeys as well.
It started with Neil building 2 enclosures, then 4, then 6….now 9!
Twelve years ago they started working with Wildlife Habitat, offering a permanent home with experienced Keepers to Lumholtz's tree-kangaroo who, due to injuries, could not be released back into the wild.
In 2013 they established the Tree Roo Rescue and Conservation Centre (TRRACC) as a not for profit organisation as their personal cost was getting to be too much. Why did they do it? They couldn't help it! No one else was doing it and no one knew how. Lumholtz tree-kangaroos are very difficult animals to care for – they are quite a handful! But Karen says "You can't help but love them, they are very charismatic, amazing and intelligent animals."
With the aid of the Dreamworld Wildlife Foundation and a local philanthropist (who wishes to remain anonymous) they were able to start building their new Care Centre, which will allow them to offer better care to injured animals.
Karen & Neil have been caring for injured LTKs for almost 17 years (they currently have 11 animals in care) and now their project has entered the stage where they need help.
Help with funding to raise awareness of the fantastic job they do through social media and conservation groups, help to embark on their next project which is to create educational kits to local schools to raise awareness on what locals can do to help save the Lumholtz's tree-kangaroo, who's current status is listed as least concerned.
To raise awareness to their threats such as dogs (both domestic and wild) and cars and to help educate locals that their dogs will attack or at least chase tree kangaroos no matter how well behaved or trained they are and this will make them very sick if not kill them.
But most importantly they need help to assist with the costs associated with caring for injured Lumholtz tree-kangaroos as well as the animals currently in care.
In the past 18-24 months TRRACC have undertaken:
• 20 rescues, of which
• 10 tree roos have survived
• 10 of those have been unable to be released back into the wild, due to injury (not disease) – including blindness or brain damage
Karen believes the increase in rescues in the past 3 years is due to a number of cascading issues. The continued hot dry weather has increased the toxins in the already toxic rainforest leaves causing neurological problems effecting their eyesight, which leads to sicker and older animals getting kicked out of their territory, which leads to Lumholtz's tree-kangaroo moving into residential areas – which means increased risk of being hit by a car or attacked by a dog. Animals are turning up in towns, miles away from rainforest – blind and confused.
TRRACC and a Veterinary ophthalmologist are working on research of this neurological damage to identify what species may be causing it. Funding towards this is also much needed.
Please visit their website to find out how you can make a donation to assist Karen and Neil with their work.
Wildlife Habitat currently stocks a great range of TRRACC merchandise that you can purchase, the sales of which go directly to assisting their amazing work.
Tree Kangaroo Awareness
How can you assist and be aware of the issues facing our tree-kangaroos? 
• Assist a re-vegetation project
Plant known tree kangaroo food species, there is a great list on the 'Tree Kangaroo Management Group' website. A tree in the middle of a paddock can assist the Lumholtz's tree-kangaroo find refuge should it finds itself in a position where it needs to escape from a predator such as domestic or wild dogs. www.tree-kangaroo.net. The Lumholtz's tree-kangaroo can wait out the danger in the safety of a tree branch, before being able to escape back into its patch of Rainforest after the dog/s has left.
There are some great conservation groups in the Atherton Tablelands doing their best to replant our rainforests through tree planting, seed and data collection.
– Trees for the Evelyn and Atherton Tablelands (TREAT)
– Landcare Queensland
Join one of their many projects, plant trees and help rebuild the Lumholtz's tree-kangaroo habitat.
• Keeping your domestic animals confined to a yard
Even if your pet does not attack wild animals they may chase, bark and scare the Lumholtz's tree-kangaroo causing unnecessary stress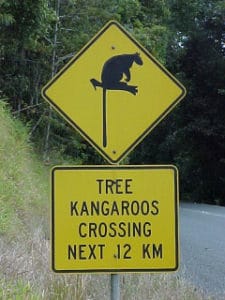 • Be AWARE of wildlife when driving
Roads create dangerous corridors in the Lumholtz's tree-kangaroo habitat. We live in one of the most beautiful parts of the world, slow down and drive carefully when you see these signs, you will not find the LTK anywhere else in the world, it is unique to our area. How can you hope to see them if you are driving too fast?
• Habitat loss and fragmentation
A hundred years ago the Tablelands was solid Rainforest. In the early 1900's land was cleared for timber, then farming due to the rich fertile soil of the area, causing habitat fragmentation.
For the Lumholtz's tree-kangaroo this means their Rainforest has been cut into small patches, many of those patches are on private land, so it is unprotected from further clearing. Loss of habitat has meant the Lumholtz's tree-kangaroo is being seen more frequently in developed areas.
If you see a Lumholtz's tree-kangaroo that looks in distress or injured, contact Karen at the Tree Roo Conservation Centre immediately on 0427 790 694.
Join our 11.15am Savannah and Lumholtz's tree-kangaroo tour to learn more about these amazing animals from our Wildlife Keepers. Soon you will also be able to see Ruby and her joey Mabi, in their enclosure from our special CCTV viewing screens.